"NUESTRO CONSEJO DE ANCIANOS": FILÓN Y LA INSTITUCIÓN ADMINISTRATIVA DE LA COMUNIDAD JUDÍA DE ALEJANDRÍA EN CONTRA FLACO
Palabras clave:
consejo de ancianos – judíos – administración – Filón de Alejandría – Contra Flaco
Resumen
El objeto de este trabajo es examinar la situación institucional del consejo de ancianos judíos de Alejandría a partir de los datos registrados por Filón en Contra Flaco 74. El funcionamiento de este consejo se encuentra atestiguado en los libros del Pentateuco (Ex 3, 16 y 18; Lv 9, 1; Nm 22, 4), y hay evidencias que prueban su  existencia en las comunidades de la diáspora. La Carta de Aristeas (310) menciona la presencia de un grupo de ancianos en Alejandría durante la traducción de la Septuaginta, aunque es Filón quien proporciona los datos que prueban la actividad de ese consejo como institución administrativa de su comunidad. Mediante la interpretación de Contra Flaco 74, nos proponemos rastrear los términos vinculados con esta institución y los datos acerca de su funcionamiento en la comunidad judía de Alejandría romana.
Descargas
Los datos de descargas todavía no están disponibles.
Citas
EDICIONES Y TRADUCCIONES
COHN, L. (1906-1962). Philonis Alexandrini opera quae supersunt, vol. 5. Berlin: De Gruyter.
FERNÁNDEZ MARCOS, N. (1982). "Carta de Aristeas" en A. DIEZ MACHO (dir.), Apócrifos de Antiguo Testamento II. Madrid; 11-63.
MARTÍN, J. P. (2009-2012). Filón de Alejandría. Obras Completas, vol. I-V. Madrid: Trotta.
MEISNER (1972-1973). Untersuchungen zum Aristeasbrief. Berlin.
TCHERIKOVER, V. A. y FUKS, A. (1957-1960). Corpus Papyrorum Judaicarum, vol. I-II. Cambridge, Massachusetts.
TORALLAS TOVAR, S. (2009). "Tratados históricos. Contra Flaco. Embajada a Gayo" en J. P.
BIBLIOGRAFÍA CITADA
BOWMAN, A. K. y RATHBONE. D. (1992). "Cities and Administration in Roman Egypt". En The Journal of Roman Studies 82; 107-127.
BOX, H. (1939). Philonis Alexandrini In Flaccum. London: Oxford University Press.
BRUNT, P. A. (1975). "The Administrators of Roman Egypt". En The Journal of Roman Studies 65; 124–147.
DELIA, D. (1991). Alexandrian Citizenship during the Roman Principate. (American Philological Association, American Classical Studies, 23.). Atlanta, GA: Scholars Press.
EL-ABBADI, M. A. H. (1964). "The Gerousia in Roman Egypt". En The Journal of Egyptian Archaeology 50; 164-169.
GAMBETTI, S. (2009). The Alexandrian Riots of 38 C.E. and the Per-secution of the Jews: A Historical Reconstruction. Leiden-Boston: Brill.
GRUEN, E.S. (2004). Diaspora. Jews amidst Greeks and Romans. Cam-bridge–London: Harvard University Press.
KASHER, A. ([11978] 1985). The Jews in Hellenistic and Roman Egypt: The Struggle for Equal Rights. Tübingen: Mohr Siebeck.
KERKESLAGER, A. (2005). "The Absence of Dionysios, Lampo, and Isidoros from the Violence in Alexandria in 38 C.E.". En Studia Philonica Annual 17; 49-94.
LÜDERITZ, G. (1994). "What is the politeuma" en J. W. VANHENTEN, Pieter Willem VAN DER HORST (eds.) Studies in Early Jewish Epigraphy. Leiden: Brill.
MOMIGLIANO, A. (1944). "Review. The Cambridge Ancient History. The Augustan Empire, 44 B.C.-A.D. 70". En The Journal of Roman Studies 34; 109-116.
SCHÜRER. E. ([11973] 2014). The History of the Jewish People in the Age of Jesus Christ (175 B.C. – A.D. 135). Vol. I-II. London – New York: Bloomsbury T&T Clark.
SMALLWOOD, E. M. (1976). The Jews under Roman Rule. From Pompey to Diocletian. Leiden: Brill.
STEIN, A. (1950). Die Präfekten von Aegypten in der römischen Kai-serzeit. Berne: A. Francke.
STERN, M. (1974-1984). Greek and Latin Authors on Jews and Judaism, 3 vols., Jerusalem: The Israel Academy of Sciences and Humani-ties.
TERIAN, A. (1981). Philonis Alexandrini De animalibus. California: Scholars Press.
VAN DER HORST, P. W. (2003). Philo of Alexandria. Philo's Flaccus. The First Pogrom. Introduction, Translation and Commentary. Leiden.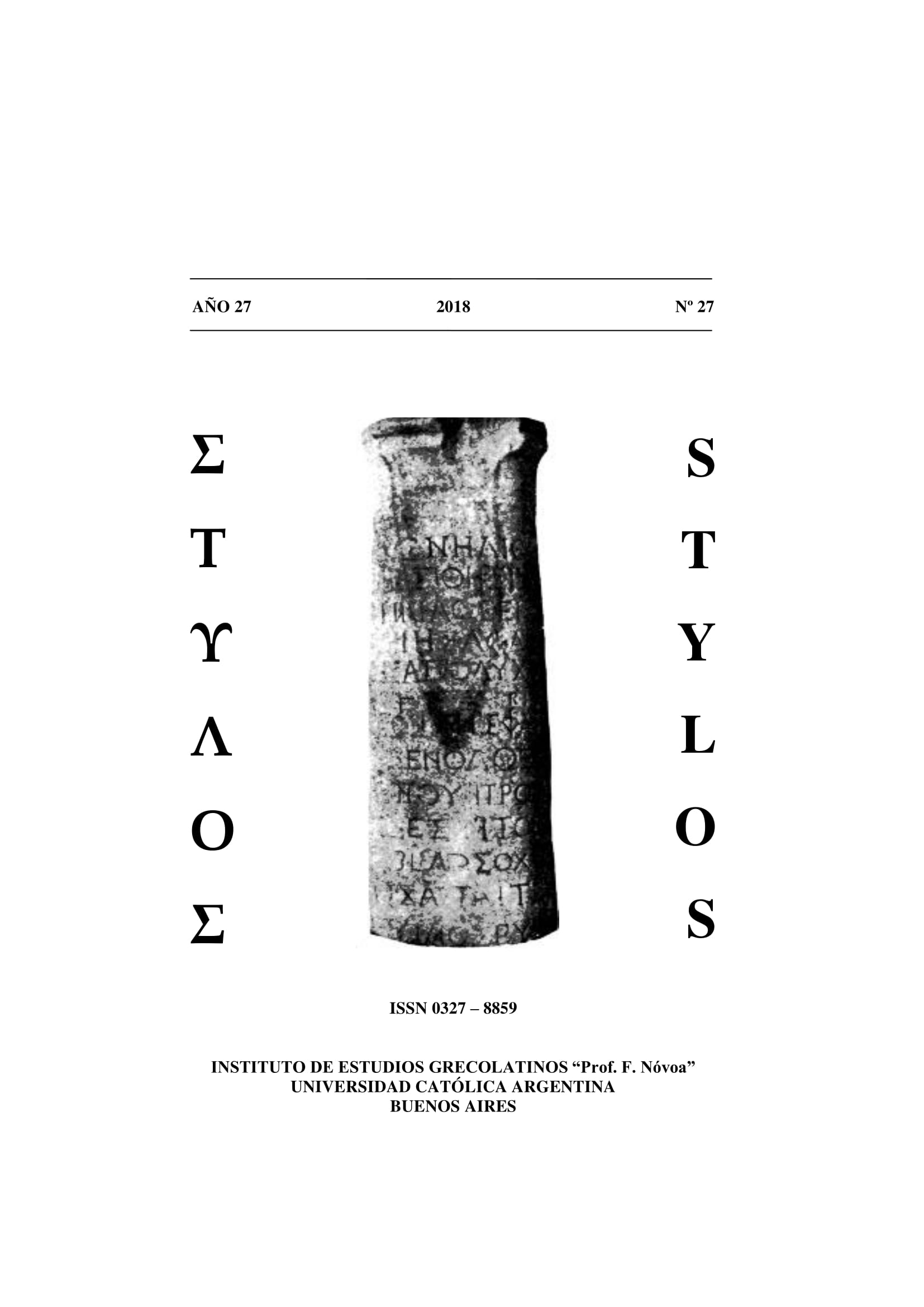 Descargas
Cómo citar
Druille, P. (2019). "NUESTRO CONSEJO DE ANCIANOS": FILÓN Y LA INSTITUCIÓN ADMINISTRATIVA DE LA COMUNIDAD JUDÍA DE ALEJANDRÍA EN CONTRA FLACO. Stylos, 27(27), 80–91. Recuperado a partir de https://e-revistas.uca.edu.ar/index.php/STY/article/view/2051
Licencia
Esta obra está bajo una
Licencia Creative Commons Atribución-NoComercial-CompartirIgual 4.0 Internacional
.