Catholic social economy: past evolution and present challenges
Palabras clave:
catolicismo social, economía social, economía política, pensamiento económico, historia económica, historia social
Descargas
Los datos de descargas todavía no están disponibles.
Citas
Blyth M. (2002) Great Transformations: economic ideas and institutional change in the twentieth century, Cambridge, Cambridge University Press.
Bruni L. and S. Zamagni (2007) Civil Economy, Peter Lang, Oxford.
Chenu M.-D. (1979) La Doctrine Sociale de l'Eglise comme Idèologie, Paris, Cerf.
Crespo R. (2013) Theoretical and Practical Reason in Economics. Capacities and Capabilities, Berlin, Springer.
Danner, P. (1982), "Personalism, values and economic values," Review of Social Economy,vol. 40 (2) pp.178-198.
Danner, P. and O'Boyle, E. (1999), "Personalist Economics is human economics because itputs the human person at the center of economic affairs," Forum for Social Economics,vol. 29 ( 1) pp.47-61.
Duroselle, J.-B. (1951) Les Débuts du Catholicisme Social en France, Paris, PUF.
Felice F. (2008) L'Economia Sociale di Mercato, Soveria Mannelli, Rubettino.
Hoevel C. (2013) The Economy of Recognition. Person, Market and Society in Antonio Rosmini, Berlin, Springer.
Kersberger Kees van (2004) Social Capitalism. A Study of Christian Democracy and the Welfare State, London, Routledge.
Marangoni G.D. and S. Solari (2010) "Personalism vs. individualism : a critical historical perspective" in edited by Edward J. O'Boyle, Looking beyond the individualism and homo economicus of neoclassical economics: a collection of original essays dedicated to the memory of Peter L. Danner our friend and colleague, Milwaukee, Wis.: Marquette University Press.
Mastromatteo G. and S. Solari (2013) "The idea of common good in political economy", Philosophical News n°7, Recuperado de: http://www.philosophicalnews.com/
O'Boyle, E. (1998), Personalist Economics. Moral Convictions, Economic Realities, andSocial Action, Kluwer Academic, Boston.
Porta P.P. (2013) "The Italian tradition in the history of economic thought: A reply to professor Piero Barucci", History of Economic Thought and Policy, n°2.
Possenti V. (1988) "Natura della dottrina sociale della Chiesa", Rivista Internazionale di Scienze Sociali 96 (3) pp. 520-536.
Resico M. F. (2010) Introducción a la Economía Social de Mercado, Buenos Aires, Konrad Adenauer Stiftung.
Solari S. (2007) "The Contribution of Neo-Thomistic Thought to 'Roman Catholic' Social Economy", American Review of Political Economy, vol.5 (2) pp.39-58: 1551-1383.
Solari S. (2010a) "The corporative third way in Social Catholicism (1830-1918)", European Journal of the History of Economic Thought vol.17 (1) pp.87-113.
Solari S. (2010b) "Catholic perspectives on poverty and misery: from nineteenth century French Catholic social economists to the contribution of Jesuits", Chaiers d'Economie Politique vol.59 pp.185-203.
Urbinati N. (2013) "La conquista cattolica della società liberale", Il Mulino (2) pp. 187-200.
Vito F. (1945) La Riforma Sociale Secondo la Dottrina Cattolica, ed. Vita e Pensiero, Milan.
Vito F. (1949) Economia e Personalismo, ed. Vita e Pensiero, Milan.
Encyclical letters: Populorum Progressio (March, 26, 1967).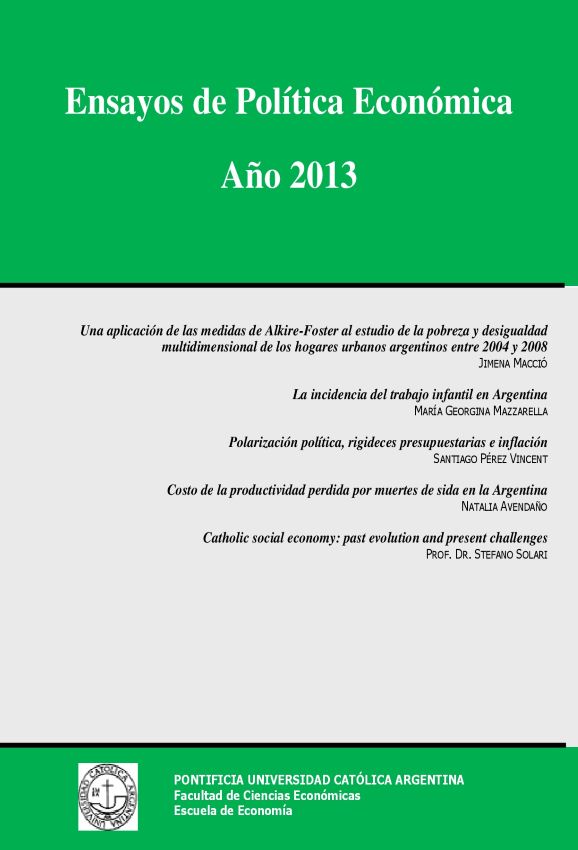 Descargas
Sección
Conferencias y Ponencias