Costos hundidos endógenos y competencia: aplicación al caso de telefonía local en EE.UU.
Palabras clave:
costos hundidos, competencia, telecomunicaciones
Resumen
Uno de los primeros casos internacionales de regulación de las telecomunicaciones que buscó que los operadores establecidos compartieran las economías de alcance y de red con sus competidores, fue el que tuvo lugar en los Estados Unidos a través de la denominada Telecomm Act (1996), y de la posterior actuación de la Comisión Federal de Comunicaciones (FCC) de ese país. El paradigma detrás de ese esquema fue la creencia que la reducción de barreas de entrada implicaría una afluencia de competidores a la industria, los que, al no tener que hundir costos en la construcción de nuevas redes, podrían ocuparse de generar competencia por el market share, y solo cuando lo hubieran obtenido construirían las mismas, aumentando la capacidad del mercado y cambiando la configuración del mismo. El presente trabajo reconcilia la evidencia empírica del proyecto implementado por la FCC con un modelo conceptual de competencia en la industria de las telecomunicaciones que es diferente al que tuvo el regulador estadounidense entre 1996 y 2005. Se demuestra así que la concentración de la industria se mantiene elevada a pesar de las medidas que pretenden introducir competencia utilizando la red del operador ya establecido, debido a la existencia de costos hundidos endógenos en la industria.
Descargas
Los datos de descargas todavía no están disponibles.
Citas
Bain, J. (1956). Barriers to new competition, Cambridge: Harvard University Press.
Baumol, W., Panzar, J. y Willig, R. (1982). Contestable markets and the theory of industry structure, Nueva York: Harcourt Brace.
Coloma, G. (2005). Economía de La Organización Industrial, Buenos Aires: Temas Grupo Editorial.
Dippon, C y Ware, H. (2010). "Wholesale Unbundling and Intermodal Competition", Telecommunications Policy Journal 34, 54–64.
Federal Communications Commission (FCC) (2003). FCC Adopts News Rules for Network Unbundling Obligations of Incumbent Local Phone Carriers, February 20.
Federal Communications Commission (FCC) (2004a). Statistics of Common Carriers, October 2004.
Federal Communications Commission (FCC) (2004b). Trends in Telecomm Services, October 2004.
Federal Communications Commission (FCC) (2005). Report and Order and Notice of Proposed Rulemaking, CC Docket Nos. 02-33, 01-337, 95-20, 98-10, WC Docket Nos. 04-242, 05-271 (rel. Sept. 23, 2005), Appropriate Framework for Broadband Access to the Internet over Wireline Facilities, (classifying wireline broadband Internet access service as an information service), Released September 23.
Fisher, R. A., y Tippet, L. J. C. (1928)." Limiting forms of the frequency distribution of the largest or smallest member of a sample". Mathematical Proceedings of the Cambridge Philosophical Society, 24 (2), 180–190.
Friedman, J. (1971). "A non-cooperative equilibrium for supergames". The Review of Economic Studies, 38 (1), 1-12.
Friedman, J. (1977). Oligopoly and the theory of games, Amsterdam; North-Holland.
Giorgetti, M.L. (2003). "Lower Bound Estimation – Quantile regression and simplex method: an application to Italian manufacturing sectors", The Journal of Industrial Economics, 51 (1), 113-120.
Gumbel, E. J. (1958). Statistics of extremes, New York: Columbia University Press.
Hausman, J. & Sidak, J. (2004). "Did mandatory unbundling achieve its purpose? Empirical evidence from five countries". Working Paper 04-40. Cambridge, MA: MIT Department of Economics.
Hazlett, T., & Caliskan, A. (2008). "Natural experiments in US Broadband Regulation". Law and Economics Research Paper Series, 08-04. Washington, DC: George Mason University.
Koenker, Ng y Portnoi (1994). "Quantile Smoothing Splines", Biometrika, 81,673-680.
Kreps D. y Scheinkman J. "Quantity precommitment and Bertrand competiton yield Cournot outcomes", Bell Journal of Economics, 14, 326-337.
Organization for Economic Co-operation and Development (OECD) (2006). Policy Roundtables: Access to Key Transport Facilities.
Robinson, W. y Chiang, J. (1996). "Are Sutton´s predictions Robust", The Journal of Industrial Economics, 44, 389-408.
Smith, R.L. (1985). "Maximum Likelihood Estimators in a class of nonregular estimators", Biometrika, 72, 68-90.
Smith, R.L. (1994). "Nonregular regressions", Biometrika, 81, 173-183.
Smith, R.L. (1998). "Forecasting Records by Maximum Likelihood", Biometrika, 83, 331-338.
Sutton, J. (1991). Sunk Costs and Market Structure, Cambridge: The MIT Press.
Tirole, J. (1988). The theory of Industrial Organization, Cambridge: The MIT Press.
Train, K. (1995). Optimal Regulation: The Economic Theory of Natural Monopoly, Cambridge: The MIT Press.
Watersson, M. (1984). Economic Theory of the Industry, Cambridge: Cambridge UniversityPress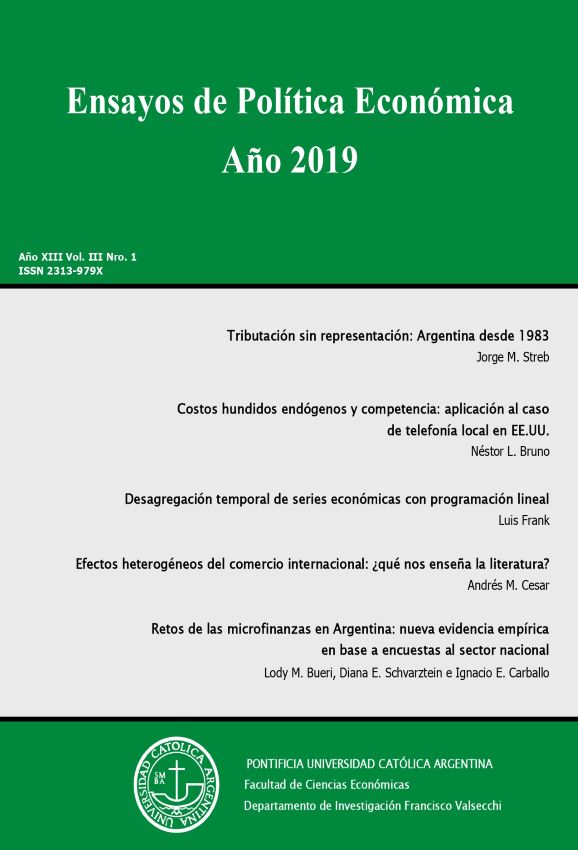 Descargas